We are particularly proud of the great result achieved, especially in a difficult year like the one we are all facing.
Having become part of the top 30 ranking of one of the most accredited Media Companies in the technology sector in the United States, CIO Bulletin, is a constant incentive and commitment to do better and better while protecting our customers and partners.
We take this opportunity to thank all the people who believed in our project and have supported it up to now, thank you for being with us and for accompanying us on the growth path of our company.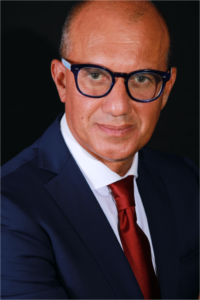 Below you can read the interview to our CEO:
What is the current scenario of Telco & Information and Communication Technology (ICT)?
In this moment of a global pandemic from Covid-19, our ICT customers suddenly found themselves in the condition of having to review their internal processes, making them more efficient and such as to better manage the now inevitable digital transformation in progress. At this stage, the investments on this epochal transformation represented by the upcoming digital revolution in place are very low considering the global recession due to the Covid-19 pandemic, but I'm confident that, really soon, the things will suddenly change. LUBEA is working to be ready to face this new challenge. About our Telco customers, let me say that we haven't seen a significant reduction of the business, the thrust that the deployment of the 5G technologies are facing since the last months of 2019, brought our Company to consolidate our position for the services LUBEA is providing in the wireless networks both, engineering and infrastructures design, sectors. Moreover, we foresee to have a further growth of the business from the last quarter of 2020 with a significant further expansion in 2021.
How LUBEA originated and what are its values?
I have decided to establish LUBEA to create a reality different from those on the market. LUBEA is just that: a company that operates in the exclusive interest of its partners with reliability and integrity, giving added value through its services. LUBEA communicates to its professional team of experts the values on which the company is founded. Our values constitute the basis of the successful strategy of our business and define our attitude towards all Customers. The main values on which the Company is based are Transparency, Integrity, Impartiality, Efficiency, and Entrepreneurship.
Kindly explain your area of expertise in detail.
LUBEA's services range embrace the following areas of expertise that constitute the core of our business. We provide our services in the wireless mobile networks engineering and design areas providing radio and transmission planning, design and optimization services on 2G/3G/4G/5G radio access technologies as well as professional services for the design of the wireless/mobile network infrastructures (towers, poles, radio systems, etc…). Our Company works also in the management and design of the Fiber Optics Networks (GPON) and it is specialized in the design of the FTTx networks. LUBEA services in the acceptance and certification field include the inter-operability testing and final approval of the wireless devices (handsets, decoders, etc…). We also perform Site (BTS/NodeBs) Radio Acceptance. Our Company provides its qualified engineers to document any no-compliancy found in the site under audit, as well as any potential cost impacts to the Operator prior to the "GO LIVE" of all sites under acceptance.
In the area of Digital Transformation services and IoT solutions, let me say that LUBEA is working hard to illuminate what value digital transformation can bring to industries especially with the support of the IoT platforms that guarantee the necessary connectivity and a huge amount of data to be properly managed. Our goal is to bring a human experience to technological developments, providing ways to maximize value creation across all assets and operations lifecycles while targeting a return on the investment. LUBEA will work with each customer to help identify how Digital Transformation improves profitability on Capital investments providing our Customers with a Competitive edge in their Business.
Explain your services in brief.
The way we provide our services is mainly through the consultancy in our customers' premises that cover almost 70% of our annual revenues. The other services are provided as "managed" or "turn-key" services that we develop and manage internally.
LUBEA's goal is to offer innovative services and solutions. According to our mission to always innovate and propose to our customers the most advanced and smart services possible, it is noteworthy to report that LUBEA has been one of the first Companies in Italy to develop a new system/solution, called "Advanced Network Inventory", oriented to enable our customers to perceive the need and importance of recording what is really present in their wireless networks through certified, objective, measurable and, above all, remotely verifiable detections. Thanks to the use of drones and laser-scans and through complex data processing software collected in the field, partly developed internally in order to offer even more precise and immediate outputs, LUBEA has started to offer, from the beginning, these services in Italy for the main wireless network vendors and carriers. This solution is now helping the owners of the network infrastructures and the wireless operators to save up internal costs and to reduce the health and safety risks of the sub-contractors during the site surveys.
What are the 7 stages of LUBEA method?
The 7 stages of our method are the steps we follow to guarantee the best solution/service delivery to our customers. It is an internal certified method that, in line with our Quality policies, provide a clear and transparent process with which we work and operate.
What measures are you taking for your employees' safety during COVID-19?
The dramatic spread of COVID-19 has disrupted lives, livelihoods, communities, and businesses worldwide. Our commitment at LUBEA has been to ensure public and employee safety, this is the reason why we, immediately, since March 2020, have provided to all our employees and collaborators the Anti-COVID-19 PPEs to maintain and protect their health and safety (masks, gloves, hydro-alcoholic gel and infrared thermometers). At the same time, LUBEA has started to apply the "SMART WORKING" model for its staff and internal resources to minimize any impact to our valued employees that were dedicated to their home offices with all required Communication as well as connectivity that was at the ready. The SMART WORKING model is still being undertaken by our Company.
Where do you see LUBEA in the forthcoming years?
LUBEA, since its establishment, has always had an international vision. The Company has oriented its attention to acquire global customers (i.e. ZTE, ERICSSON, NOKIA, HUAWEI) and is going to close strategic partnerships with international suppliers to be able to expand its services portfolio abroad. How I see LUBEA in the forthcoming years? A Company that works in an international market, globally.
to get more info: https://www.ciobulletin.com/magazine/lubea-is-top-consulting-firm-for-telecom