The deployment of networks, at global level, is today entrusted to 4 Telecommunications vendor leaders: the Chinese Huawei and ZTE and the European Ericsson and Nokia.
The two Chinese tech giants are the first victims of the ongoing "trade war" between USA and China: ZTE situation has almost stabilized, at least for the moment; but now it's the turn of Huawei.
Seeing as Huawei is facing scrutiny, its competitors do not sit back: Ericsson and Nokia want to reap the benefits coming from reciprocal contrasts between USA and China, they are also upping the focus on research and development to compound the gains providing more and more innovative systems and solutions.
This is the first opportunity which is being presented to Huawei's technology rivals. When it is banned from certain markets, there is a new chance to advance their position in those markets.
There's in place a distortion competition: Ericsson and Nokia will do everything to reap their benefits and they will seize their market shares in the global market, considering the "BAN", direct and indirect, penalizing effect towards the 2 Chinese vendors.
In fact, in the USA, Ericsson and Nokia won the contracts with Verizon and AT&T – two of the main American wireless network operators, for 5G infrastructures deployment.
Looking more closely at the financial reports of the first quarter of 2019, there is evidence of an attempt to compound the gains by increasing R&D investments:

Source: telecoms.com
Although Nokia and Ericsson are leaping ahead when it comes to the percentage on their revenues, an interesting factor that we must take into account is that Huawei is spending more in real terms (see the second column). However, this has not stopped the two European companies. The CEO of Ericsson, Börje Ekholm, has declared: "Our strategy remains the same".
Ericsson focuses on mobile networks predominantly, while Nokia on both mobile and fixed networks, as well as licensing payments from its former glory days as a leading mobile phone manufacturer.
Huawei has its fingers in a lot more pies. It focuses on both mobile and fixed networks too, but its great strength it's smartphone's consumers: the consumer group is now the largest contributor to Huawei total revenues allowing the company to have a bigger budget to invest in R&D.
Huawei is investing funds into smartphones, laptops, wearable devices and the new operating system HarmonyOS.
Huawei has a dominant position in the global mobile market, it can compete with Ericsson, Nokia and ZTE on 5G networks and infrastructures deployment and in terms of the proposition of 5G related services.
Let's now analyze in detail which is Ericsson positioning in Europe and Italy.
Ericsson and Europe.
In 2015 Ericsson announced the expansion of its cross-industry 5G research and development (R&D) program to a range of European markets. The "5G for Europe" program brought together major industrial players, the public sector and leading universities across Europe  to focus on research, innovation and industrial pilots that use next-generation 5G networks as an enabler, in order to strengthen the competitiveness in Europe and maximize the benefits of the Networked Society.
Mobility services, efficient transports and connected vehicles are still the three macro-areas of research conducted by Ericsson.
The CEO of Ericsson, Börje Ekholm, believes that Europe needs to make a great leap forward in 5G development, as soon as possible. The USA and China understood for a long time that 5G is fundamental to digitalize a continent, but Europe doesn't seem to be as reactive as the other continents.
Source: agi.com – "For Europe, it's time to accelerate 5G implementation". The CEO of Ericsson Börje Ekholm at Paris Viva Tech Conference.
It is true that placing restrictions on Huawei has created new opportunities for the other vendors but exceeding in post-development tests in Europe has caused a delay in the release of new infrastructures. On the one hand, these tests are not so useful because the networks regularly change. On the other hand, they slow down the evolution of the infrastructures and networks in a moment in which we must speed up.
Ericsson is the first vendor to have launched 5G technology in the 4 continents. All over the world, they've been launched over 20 5G commercial networks: Ericsson participated in 15 of these projects and in some of them it is sole vendor (it means that 100% of radio and core technology were provided by Ericsson).
Italy: the state of the art.
Italy plays a strategic role having three important centers of research: Genova, Pagani e Pisa. The Ericsson R&D center in Pagani, in Salerno province, has been active for 29 years and employs around 260 researchers: the Pagani hub conquered a strategic role at global level on technologies and data archiving, switching systems, networks security, cloud technology and virtualization.
In the first days of August, Ericsson welcomed a delegation of Italian parliamentarians in its R&D Pagani center, in order to present the current activities and programs of collaboration with Naples and Salerno universities, Italian startups and regional industrial companies. It happened thanks to the Innovation Garage institute that incubate innovative ideas and projects.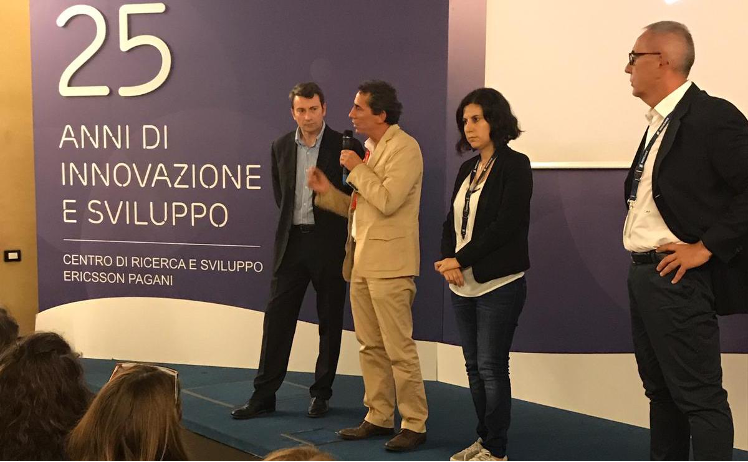 Source: ericsson.com
Emanuele Iannetti, CEO of Ericsson in Italy, highlighted how much is important for the company being at the forefront of advanced technologies' development process, like 5G, with the aim of supporting Italy in its digitalization.
Ericsson owns 23 R&D centers in Europe, 3 of which are located in Italy: it has been conducting R&D activities in Genova, Pisa and Pagani R&D centers for more than 41 years. The history of Ericsson in Italy began in 1918 and now Ericsson counts around 3.000 employees who work to supply technologies and services to the principal telecommunications operators.
Since 2000, Italian researchers have been obtained more than 600 licenses for the company.
Ericsson has a strong presence in our Country and gives its contribution to all mobile operators in creating the new 5G networks. Vodafone and TIM, for example, launched their first 5G commercial offers thanks to the infrastructures created by Ericsson.
Giuseppe Mura – CEO
Maria Vittoria Seu – MCO
LUBEA s.r.l.