On the 10th of December, during the "Ultra-wideband, it's now the companies' turn – between grey areas and 5G" event held in Rome, Ericsson presented their research "5G for business: a 2030 market compass" according to which the 5G will enable new revenue opportunities for service providers for an estimated amount of 32 billion dollars, of which USD 15 billion is the business potential for mobile operators.
According to the study, the fifth generation of mobile networks will be the "archè" of the Italian industry digitalization and will enable a great business potential for ICT companies and mobile operators.
By 2030 the Italian 5G-enabled businesses will obtain consisting revenues from the digital transformation of certain sectors of the Italian market, including manufacturing, public safety, financial services, health, automotive, public transportation, media and entertainment, energy and utility, retail and agriculture. 15 billion dollars is the estimated potential revenue for mobile operators.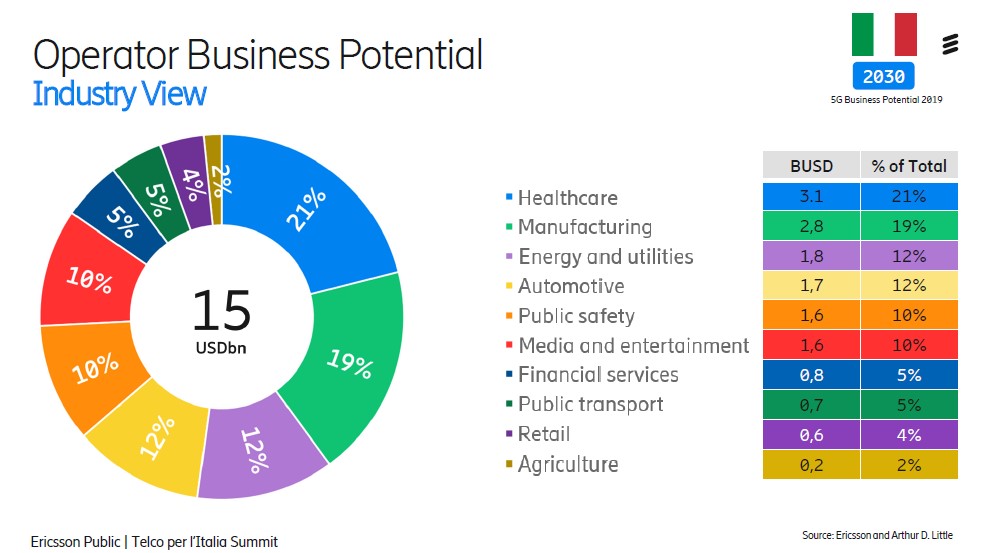 "The 5G technology is a platform for innovation that can accelerate the ongoing process of digital transformation, in order to allow Italy to become a more competitive and attractive country in the global scenery – says Riccardo Mascolo, Head of Strategy and Business Development of Ericsson Italia and south-east Mediterranean. It is fundamental to consider 5G as a critical infrastructure in Italy and to ease the situation for mobile operators in order to make their business engagement and investment sustainable."
For them it will be important to define their own strategic positioning and which industry sectors and applications must be prioritized for generating new sources of revenue.
According to the report, by 2030 the following Italian 5G-enabled sectors will display greater potential: health (21%), manufacturing (19%), energy and utilities (12%) and automotive (12%).
As regards the applications of major interest, appear advanced video services, as immersive AR/VR experience of sport events and entertainment; automation services and real-time monitoring of industrial processes; connected vehicles to support smart mobility, greater road safety and a continuous exchange of information with Traffic Infrastructure, Authority of regulation of the transports and other vehicles.
The downside is the so-called "year zero" of Italian telco companies: 10 thousand jobs may be lost because of 5G auctions, tariffs and EU Antitrust. Since 2009, telco companies have lost 12 billion of revenues and 5 billion of margins, but they have also invested around 30 billion of euros, of which 25 billion have been invested in the auction of radio frequencies. As a result, 16 thousand jobs were lost between 2010 and 2018, and 10 thousand jobs may be lost over the next three years.
The companies involved are TIM, Vodafone, WindTre and Ericsson. However, this time, they are not the main culprits. A change of direction is required, it's necessary to increase investment, in order to create the conditions for Digital Innovation market to provide new services and create new jobs.
It is interesting to note that telco companies have never stopped investing, nor paying to the State costs for licenses and auction of radio frequencies. Another important aspect to mention is an amendment appeared in November that imposed a 10 euros tax on each of the 9.5 million sim cards owned by telco companies. A few weeks ago, the amendment was withdrawn, but it was then assumed to increase Ires tax of a few per cent on all utilities.
While Tlc tariffs were decreasing by 31%, those of water increased by 71%, the light by 29% and the gas by 16%. The problem here is that consumption remained stable, but the data traffic over fixed and mobile networks has increased fourfold. Italy is the country in which 1 gigabyte of traffic costs less, as demonstrated by that of other countries: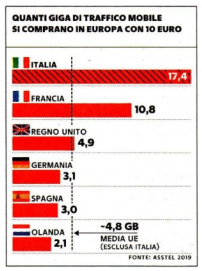 This trend is due to the speed of technological turnover. Everybody talks about 6G even before 5G could start. Telco companies are forced to invest in the next gen technology before to return on the investment in the previous technology. Moreover, the European telecommunications scenario is fragmented, where too many mobile operators coexist. The result is that half of the European telco firms is no longer financially sustainable.
Since 2016, the EU Antitrust has supported the consumer vision of telecommunications market in order to keep the number mobile operators up and decrease tariffs, compromising mobile operators' margins. Only France, Spain and Italy have kept 4 mobile operators, because they have failed to change in time: they have the lowest revenues indeed. The only merger was completed by Wind and H3G, but then Iliad could enter the Italian market and it offers very reduced tariffs.
All this has compounded mobile revenues' and margins' erosion. The abandonment of the fixed network is one the reason why the launch of the ultra-wideband and the adoption of new via streaming tv services have been delayed in Italy.
The solution is to stop blocking mergers. The merger of TIM and Vodafone towers in Inwit is a great example of the direction the Italian market should take, but it could take long time to realize the merger, since this is a merger notified to the European Commission.
Maria Vittoria Seu – MCO