From the 21st to the 28th of October it takes place TIM's "Inclusion Week". The event will spread the culture of inclusion and the promotion of diversity all over the country, in 10 Italian cities.
The fifth edition of the Inclusion Week involves over 50.000 employees to participate in 100 both live and online events in 10 different cities and 30 Italian offices, with the aim of stimulating the debate over the promotion of diversity between several members of Italian academic organizations, associations and show business. Among them, it is worth mentioning Costantino D'Orazio, the art critic and television personality, the writers Maura Chiulli and Jonathan Bazzi, the President of the Forum of Families Gigi De Palo and many other representatives of the academic world.
Several new initiatives are expected to be carry on during this week: the first experiment of "collective writing" that has led to write the script of the video "True things: A Collective Fantasia About Inclusion"; the seminar focusing on gender discrimination "Prejudice and women's leadership"; the Pink Edition of the tour "Unistem", realized in collaboration with TIM Foundation, that will bring 9 researchers in 9 Italian cities to speak to employees and their children.
For the second consecutive year, thanks to Inclusion Week 2019, TIM is confirmed as the first Italian company and the first Telco company in the world in the "Diversity & Inclusion Index di Refinitiv".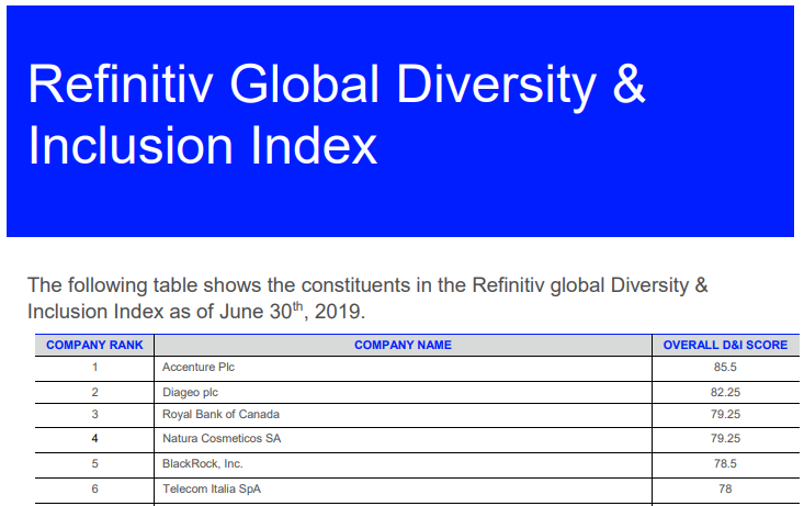 Source: Refinitiv Global Diversity & Inclusion Index
The other mobile operators are also implementing interesting inclusion and diversity projects. Let's see how they promote the importance of diversity.
Vodafone Women: 2025 target.
Vodafone has an ambition to be the best employer for women by 2025 working towards gender equality.
First, Vodafone's "Women in Red" Awards were initiated to celebrate the achievements of inspiring women at Vodafone. This award seeks to recognize women who are an inspiration for others, since they gave their contribute in building the culture of inclusion and to better understand gender equality.
40% of women directly reports to the CEO
32% of women in senior management
33% of women in senior leadership
Vodafone employs over 36,500 women directly and it has a long-term ambition to become the world's best employer for women by 2025: a significant challenge for most businesses, especially those of a global nature.
In 2019, the "Bloomberg Gender-Equality Index" recognized Vodafone as one of the top companies globally leading the way towards more equal, inclusive workplaces.

Another important initiative of Vodafone is M-Mama: this program is saving the lives of several mothers and newborns in Tanzania. M-Mama provides emergency transportation accessed by mobile ensuring mothers get quick access to quality care.
In districts running M-Mama maternal mortality fell by more than 27%.
Wind Tre & WomenHack.
This year Wind Tre hosted the first "WomenHack" event in Rome to promote gender equality in ICT and Tech sectors and to help women to get in touch with those companies that are involved in promoting diversity in workplaces.
The Networking & Recruiting event has given way to almost 100 candidates to meet over ten ICT and Tech companies and to find job opportunities. Promoting this event Jeffrey Hedberg had wanted to demonstrate how Wind Tre supports women inclusion in the Information Technology world.
Source: Wind-Tre hosts the event of WomenHack for the promotion of gender equality
Fortunately, there are many initiatives in supporting gender equality and not only in technology or telecommunications sectors. Companies are changing and evolving their values, which are now oriented towards fighting for gender equality anti-discrimination, racial discrimination, sex discrimination and they want to promote equal opportunities for all. Especially in Telco world, this subject is very important and felt by companies, since women made a great contribution in Telco history.
Back at the dawn of telephony, almost only women used to work in switchboards, with high physical stress and hard working conditions.
Even today, despite the innovation of our devices, we have a female voice – like Alexa, Siri or Cortana – to help us connecting with the world and to shape our user experience in the run-up to digital information.
A greater inclusion will ensure the opportunity to contribute to the history of Telecommunications to all and it will benefit both companies and employees.
Maria Vittoria Seu
MCO
LUBEA s.r.l.